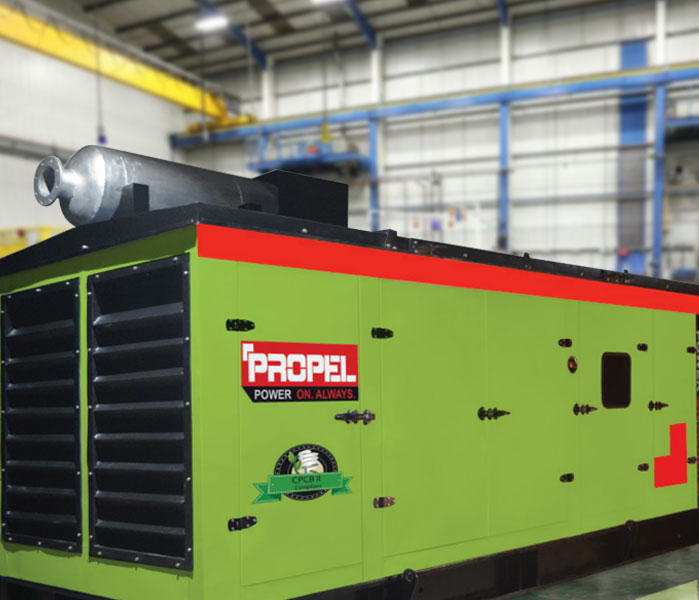 POWERED BY

Scania
Made for the future, in action today.
Reliable power, anywhere - any hour.
Engineered for maximum uptime.
Less fuel, More kVA.
Exceptional step load handling capability.
The Power House

In-house packaging
In-house design & manufacturing of Control Panel,Acoustic Canopy, Base Frame & Silencers & Fuel Tank
Powder coating with 9 Tank pre-treatment process.
In-house test cell
Manufactured for ease of servicing & usage.

The Engine

Impressive 16 litre V8 engine-sourced from Scania, a Volkswagen family company.
Made for the future, in action today.
Reliable power, anywhere - any hour.
Engineered for maximum uptime.
Less fuel, More kVA.
Exceptional step load handling capability.

The AC Generators

Provided with AREP winding / PMG.
LAM for sudden block loading, improving recovery time.

Diagnostic & Monitoring

Monitors Engine speed, oil pressure & coolant temperature.
Monitors frequency, voltage, current & power.
Comprehensive engine and alternator protection.
Inbuilt Auto-Mains (Utility), failure control module.
Largest backlit LCD icon display, with alarm indication.

For Enclosures

Modular RTU Design
Twin door system leading to better access to the digiset,resulting in easy maintenance and maximum uptime.
Special access for radiator cleaning.
Powder coated for weather proof and long lasting finish.
Gas Generator Set
Model
P 350 OC16
P 365 OC16
P 380 OC16
P 400 OC16
P 450 OC16
Power rating
kVA / kWe
350 / 280
365 / 292
380 / 304
400 / 320
450 / 360
Duty
PRIME
Power Factor
0.8 lagging
Output Voltage
Volts
415
Output Frequency
Hz
50
No. of Phases
3
Full load Current
Ampere
487
507
528
556
626
RPM
1500
Overall Dimensions of the genset (L x W x H)
mm
5700 x 2100 x 2400
Approximate Weight
kg
7100
Acoustic Canopy
6 sided, container type, Bottom Lifting, made out of 100 mm steel, CRCA sheets, rockwool insulation and residential silencer.
Gas Engine
Engine Model
OC16 071A
OC16 071A
OC16 071A
OC16 071A
OC16 071A
Configuration and No Of Cylinders
Qty
90º V8
No. of Stroke
4 Stroke
Bore
mm
130
Stroke
mm
154
Displacement
Litres
16.4
Compression Ratio
12.2:1
Direction of Rotation from Flywheel end
Counter Clock wise
Pieston Speed @ 1500 rpm
M/S
7.7
Air Temp @ ISO Condition
ºC
25
CAC Temperature
ºC
43
47
50
Exhaust Flow
Kg / Min
28
31
34
Exhaust Temp @ 100% Load
ºC
473
476
487
Step Load Performance @ Class G2,Governing
%
28
26
23
FAN Power
kW
20
Injection System
Type
Zero Pressure Ventury Gas Feed Fuel System
Governing system
EMS,OCE 1 (BOSCH EGC4 HW)
Air Consumption
Kg / Min
27
30
32
Reference Standard
REF
ISO 8528-5 G2
Starting Battery Volts
Volts
24 V
Cooling Capacity Including Radiator
Lit
68
Engine Mounted Radiator Fan Power
kW
13
High Engine Temp Limit-Alarm
ºC
98
High Engine Temp Limit-Stop
ºC
105
Filter Type
Paper filter element, 10 micron
No. of filters
Qty
1
Lub Oil system capacity (with filters)
Lit
48
Lube Oil Consumption
Gms/kWH
<0.2
Lube Oil Change Period
Hours
500 hours
Lube Oil Pressure
Bar
3 to 6
Lub Oil Pressure Guage
Parameters can be displayed with required shut off system
Water Temp Guage
Hourmeter cum r.p.m meter
Heat Rejection To coolant
kW
187
199
Heat Rejection To Exhaust Gas
kW
258
285
Heat Rejection To Charge Air
kW
64
75
Heat Rejection To Surrounding Air
kW
46
75
AC Generator
Power rating
kVA / kWe
350/280
365/292
380/304
400/320
450/360
Power Factor
0.8 lagging
No. of phases
3
Output Frequency
Hz
50
RPM
1500
Output Voltage
Volts
415
Voltage Variation
% RV
5%
Full load Current (Rated)
Ampere
487
507
528
556
626
Enclosure
IS: 4691
IP 23
Cooling
IS: 6362
IC 01
Insulation Class
H
Excitation Type
Self Exciter and Self regulated Brushless
Voltage regulation
+/- 0.5% From no load to full load at lagging power factor of 0.1 to 1.0 & speed drop of less than or equal to 4%
Overload Capacity
1.5 x Rated Full Load Current for 15sec or 1 hr in every 12 hr with 10% overload
Unbalanced Load Permitted
Fuel tank with all internal piping and Standard Control Panel with all internal wiring and cabling provided as a standard scope of supply. For requirement of AMF control panel or synchronisation panels or any special panels, please contact us.
Rating Condition
All models are Prime Power rated as per ISO 8528.
Ratings are at 415 volt, 3 phase, 50 Hz, 0.8 pf at 1500 rpm
10 % overload for one hour in every 12 hours permitted in accordance with ISO 3046/1, BS 5514,DIN 6271 for prime rated packages.
Packages comply to CPCB II exhaust emissions and noise regulations.
All specifications and dimensions are for referernce purpose and are subject to revisions and improvements.
*Reference condition 27 C Ambient Temp, 100 KBP (750 mm of Hg)Atmospheric Condition and 60% Humidity - As per IS 10002, ISO 3046.