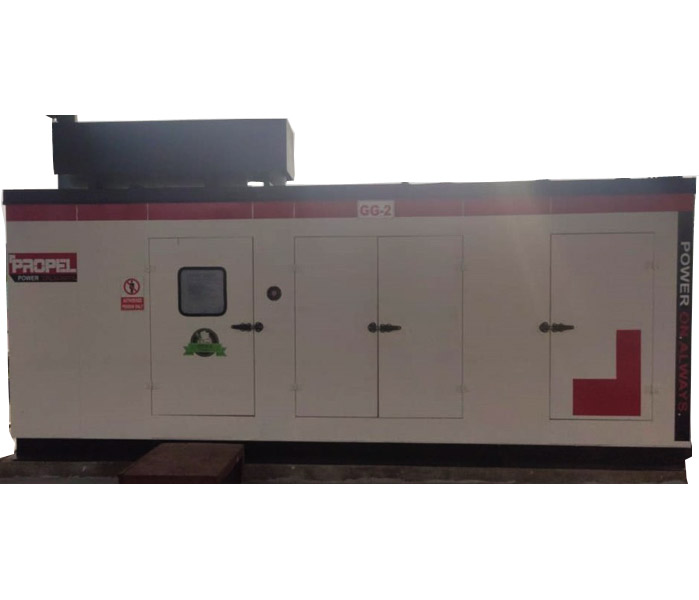 BAUDOUIN POWERED

1010 kVA
Baudouin's industrial heritage of 100 years plus.
Quality, Adaptability, Reliability and Serviceability.
Complete Electronic Engine.
Attractive Fuel Economy.
Delayed overhaul periods.
In-house packaging with service friendly canopy.
With years of experience and market research on India's need for energy, our range is now backed by Baudouin's reliability, durability and quality, combined with our precision Manufacturing, large scale of operations, and dedication to continuous improvement. With complete control of the preliminary design study to maintain the life cycle of your equipment throughout.
1010 kVA Gas Genset Technical Data
DG Set Model
PB1010GG
DG Set Rating
1010 KVA
Application
Prime Power, Continuous duty
Fuel
Natural Gas
Rated Current
1403 Amps
RPM
1500
Genset Size (LxWxH) including Acoustic Enclosure
mm
8000 x 2400 x 3000
Engine
Engine Model
12M33G10N0/5
Bore Diameter/Stroke
mm
150 x 185
Number of Cylinders
12
Number of Valves
48
Displacement
(L)
39.2
Gas system
Single Point Injection
Mixed mode
Electronic Control before Turbocharged mixture
Engine Rated Power
(kW)
900
Compression Ratio
11:1
Emission standard
CPCB
Aspiration
Turbocharged and After cooled
Gas type
Natural Gas
Minimum Gas inlet pipe Dia
mm
80
Oil type
15W/40 CH-4
Oil Tank Capacity
Litres
146
Turbocharge inlet
Temperature(℃)
39.5
Pressure(kPa)
100.4
Humidity(%)
54.90%
Exhaust back pressure
7.5
Air intake system
Air mass flow
kg/h
3816
Gas system
Gas quantity@ 100%PRP
kg/h
159.2
Alternator
Make
Leroy Somer/ Meccalte
Rated Volt
415 V
Voltage Regulation
(+/-)1%
Class of Insulation
Class H
Frequency
50 Hz
Power Factor
0.8
Enclosure
IP23
Cooling
IC01
Excitation Type
Self excited and self regulated Brushless
Overload Capacity
10% for 1 Hr in 12 Hrs operation
Manual Control Panel
ACB
1600 Amps ACB
Digital display
Speed, Lube oil pressure (Trip), Coolant Temperature (Trip),Voltage, Current, KW, KWH, PF, KVA, Frequency
Note
Product development is continuous process, hence data can be changed any time without prior notice.

GG Rating in accordance of ISO 8528, ISO 3046/1, BS 5514, DIN 6271 for Prime rated Generator.

Fuel consumption tolerance applicable +5%.